Spell the words subject
Spell the words subject
1. Complete the words — Заполни кроссворд
atlas — атлас
pencil — карандаш
notebook — тетрадь
eraser — стерка
notepad — записная книжка
2. Match the words — Подберите пары слов.
с; — Information Technology — информатика
а; — Physical Education — физкультура
d; — School subjects — школьные предметы
b; — Lunch break — обеденный перерыв
е. — Pencil case — пенал
3. Complete with a/an — Вставьте а/аn.
a pencil case; — пенал
an atlas; — атлас
a pencil sharpener; — точилка
an eraser; — стерка
a ruler. — линейка
4. Fill in: is, are, then answer the questions — Вставьте правильную форму глагола «быть», затем ответьте на вопросы.
Is Laura new to the school? Yes, she is. — Лаура новенькая в школе? Да
Is Tim in Year 5? No, he isn't. — Тим в 5 классе? Нет
Are Paul and Steve at secondary school? Yes, they are. — Поль и Стив в средней школе? Да
Are Jane and Claire in Year 7? No, they are not. — Джейн и Клэр в 7 классе? Нет
Are Laura and Jane at primary school? Yes, they are. — Лаура и Джейн в начальной школе? Да
5. Choose the correct response — Выбери правильный ответ
A: Good morning, Paul. — Доброе утро, Поль
B: a) Good morning, Ann. — Доброе утро, Аня
A: How are you? — Как дела?
B: a) I'm fine, thanks. — Хорошо, спасибо
A: Goodbye, Tony. — До свидания, Тони
B: b) Goodbye, Sally. See you later. — Пока, Салли. Увидимся
A: See you later! — Увидимся
B: a) See you. — Увидимся
Now I can… — теперь я могу
talk about school subjects/objects — говорить о школьных предметах и принадлежностях
write a school timetable — составлять расписание
count from 1 to 20 — считать от 1 до 20
introduce myself and others — представлять себя и других
write a fact file about myself — написать портфолио о себе
use capital letters correctly — правильно использовать заглавные буквы
write a subject choice form — составить форму выбора предметов
talk about schools in England & in my country — говорить о школах в Англии и в России
greet people — приветствовать людей
Smile — Улыбнись
— Tim, can you spell the word «mouse»? — Тим, ты можешь произнести слово мышь по буквам?
— M-O-U-S
— Good, but what's at end? — Хорошо, а что на конце?
— A tail. — Хвост
Spell — перевод, произношение, транскрипция
существительное ↓
глагол ↓
Мои примеры
Словосочетания
Воспользуйтесь поиском для того, чтобы найти нужное словосочетание, или посмотрите все.
Примеры
How do you spell your name?
Как пишется ваше имя? ☰
Sorry, I spelled it wrong.
Простите, я неверно написал. ☰
I'll spell for a bit.
Я немного отдохну. ☰
I'm afraid this spells trouble!
Я боюсь, это повлечёт за собой неприятности! ☰
He did a spell in prison.
Он провёл некоторое время в тюрьме. ☰
What word do these letters spell?
Какое слово образуют эти буквы? ☰
Refer to the dictionary when you don't know how to spell a word.
Когда не знаешь, как пишется слово, посмотри в словарь. ☰
Even Frank had fallen under her spell.
Даже Фрэнк был ею очарован. ☰
How do you spell that word?
Как пишется это слово? ☰
The whole town seemed to be under a spell.
Казалось, весь город заколдован. ☰
The audience was completely under his spell.
Публика внимала ему как зачарованная. ☰
They say she died after a witch had cast a spell on her.
Говорят, она умерла после того, как ведьма околдовала её. ☰
I can spell you if you get tired.
Я могу сменить вас, если вы устали. ☰
He whispered a spell as he moved his hands.
Он прошептал заклинание, делая пассы руками. ☰
How do you spell this word?
Как пишется это слово? ☰
Will you spell me at rowing the boat?
Сменишь меня на веслах? ☰
He spells the way he speaks.
Он пишет так, как слышит. ☰
You've spelled my name wrong.
Вы написали мое имя неправильно. ☰
He fell under the spell of her charms.
Он не устоял перед её чарами. ☰
I couldn't remember how to spell her name.
Я не мог вспомнить, как пишется её имя. ☰
The drought could spell disaster for wildlife.
Засуха может обернуться катастрофой для дикой природы. ☰
B-O-O-K spells 'book'.
B-O-O-K читается как «book». ☰
The workers spell every four hours.
Рабочие меняются каждые четыре часа. ☰
You can spell it either way.
И тот, и другой способ написания являются верными. ☰
a cold spell set in sometime last week
похолодание, которое началось примерно на прошлой неделе ☰
He gave his name and then spelt it.
Он назвал своё имя и продиктовал его по буквам. ☰
How do you spell 'juice'?
Как пишется слово 'сок'? ☰
He lay still, not wanting to break the spell.
Он лежал неподвижно, не желая разрушить очарование этого момента. ☰
She had stood petrified before him, as if affected by some wicked spell.
Она стояла, как окаменевшая, перед ним, как будто на нее наложили какое-то ужасное проклятие. ☰
That word is a bitch to spell.
Это слово трудно для произношения /написания/. ☰
Примеры, ожидающие перевода
Pupils should know how to spell commonly used words.
☰
Unscramble the letters ALCEDNRA to spell "CALENDAR."
☰
After a quiet spell there was a sudden flurry of phone calls.
☰
Для того чтобы добавить вариант перевода, кликните по иконке ☰ , напротив примера.
Spell The Words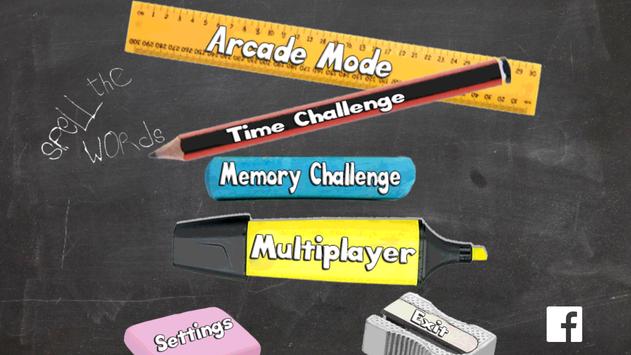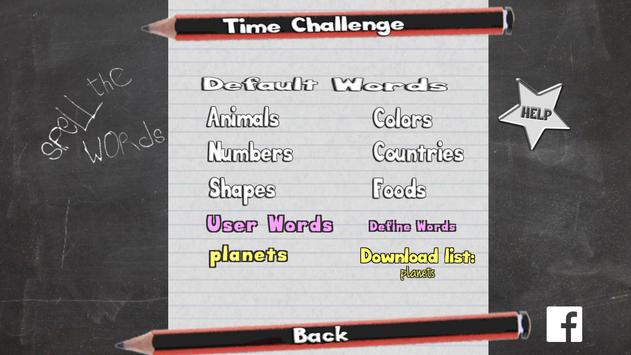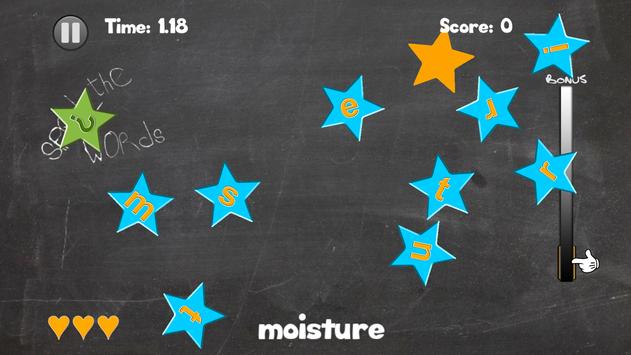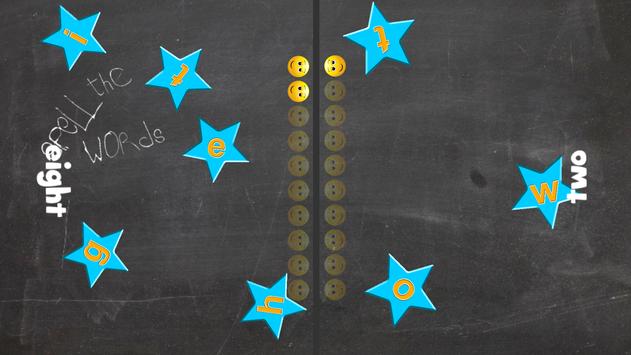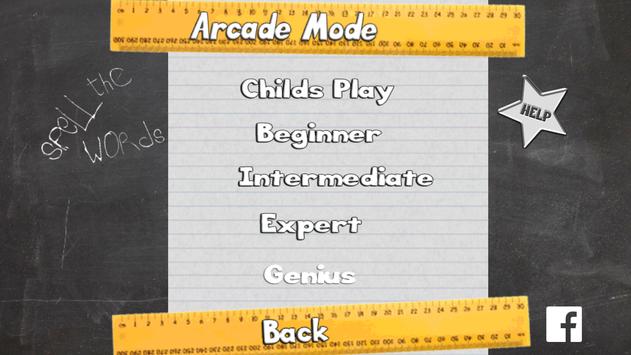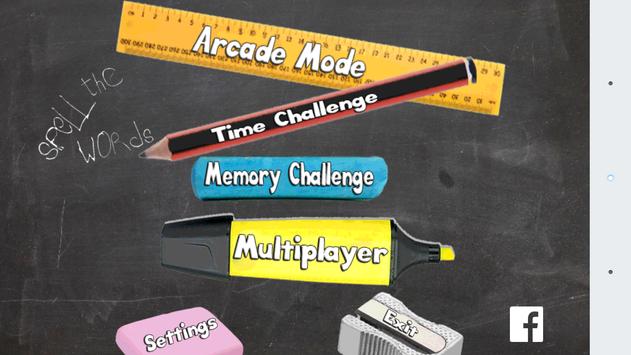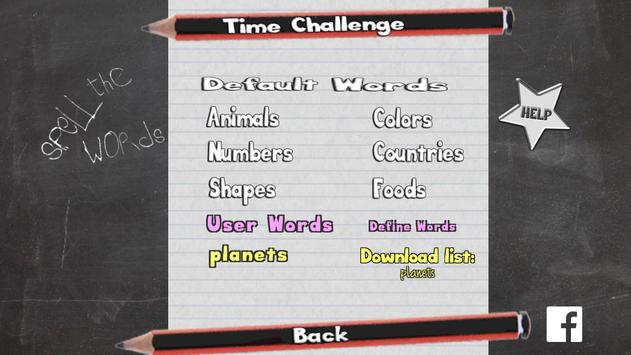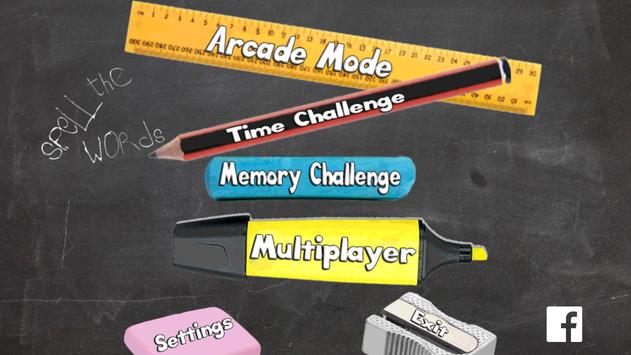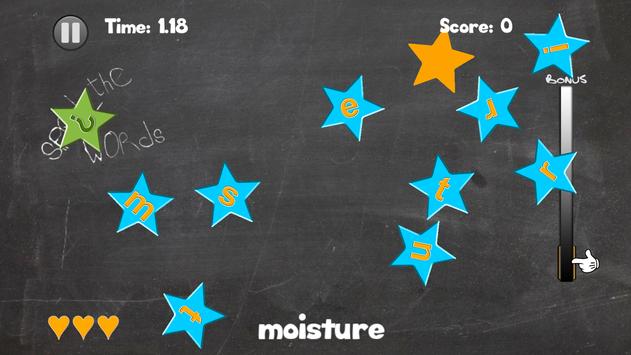 Описание для Spell The Words
Suitable for all ages, young or old, we'll take you from Child's Play to Genius with 1000's of words ranging from 2 letter's to 20+. Play at home, school or on the bus!
Spell the words incorporates several modes that can tailor spelling towards play and education. It can also be played by those interested in enhancing their cognitive ability. Alternatively, it's just plain fun!
Speed, accuracy, dexterity, and recollection are all you need to be the best!
We've got four awesome game modes for you to explore:
★Try to be the ARCADE champion and get from Beginner all the way to Genius status! Each level has 20 rounds with each round getting progressively harder, get the high score and share it with your friends★
★Set yourself against the clock, choose your difficulty and see how many words you can spell in TIME CHALLENGE.★
★Think you've got a good memory? Practice your brain training in MEMORY CHALLENGE, choose your difficulty and duration then see how good your cognitive skills really are, memorize simple words to genius level the choice is yours! ★
★Combat your parents, siblings, friends or classmates in local MULTI-PLAYER mode. Twin Combat mode will really decide who is the best, first to spell the ten words wins★
★Just in case that isn't enough, you also have the flexibility to add your own custom words! Really useful if you want to learn a specific set of words, such as those in a spelling bee, quiz or test, simply enter the words you want in at the settings screen and turn on the custom words option. Next select time challenge mode and practice the spellings you have just entered to see how many you can get correct in a set amount of time. Alternatively select Memory mode and test your brain skills, the custom words you have entered will appear on the screen for a few seconds then disappear, get one letter wrong and it is game over. The custom spellings can also be used in the multiplayer mode, this could be really useful to get children engaged in a fun classroom word exercise or to help practice homework words★
Each mode has been designed to get you thinking about varying words and letters as well has enhancing your perception, reasoning, recognition and spatial skills. Psychomotor skills are challenged throughout especially in the more advanced levels of intermediate, expert and genius.
Teachers, parents and children, Spell the Words can be enjoyed by anyone. Kindergarten to High School, Primary to Secondary or just to keep your own brain active!
★★★Useful tips: the letters n=u, p=d, q=b when spinning, remember green is good bonus, red is bad, bombs are good in twin combat so use them, the rest is up to you!★★★
Spell+the+word
1 spell
2 word
См. также в других словарях:
The Word of Unbinding — (1964) is a short story by Ursula K. Le Guin, first published in the January 1964 issue of Fantastic, and reprinted in collections such as The Wind s Twelve Quarters. In this story, the world of Earthsea, which was later made famous by A Wizard… … Wikipedia
Cave of the Word Wizard — Infobox VG| title = Cave of the Word Wizard developer = Patrick Quinn publisher = Timeworks, Inc. designer = Electronic Speech Systems engine = released = 1982 genre = modes = ratings = Unrated platforms = C64 media = 5.25 inch disks requirements … Wikipedia
The Miracle Worker — is a cycle of 20th century dramatic works derived from Helen Keller s autobiography The Story of My Life . Each of the various dramas describe the relationship between Keller a deafblind and initially almost feral child and Anne Sullivan, the… … Wikipedia
spell */*/ — I UK [spel] / US verb Word forms spell : present tense I/you/we/they spell he/she/it spells present participle spelling past tense spelt UK [spelt] or spelled past participle spelt or spelled 1) [transitive] to know the letters of a word in the… … English dictionary
spell — spell1 [ spel ] verb ** 1. ) transitive to know the letters of a word in the correct order: Can you spell the word beautiful? a ) transitive to say or write the letters of a word in the correct order: You ve spelled my name wrong. b )… … Usage of the words and phrases in modern English
The Quillan Games — infobox Book | name = The Quillan Games title orig = translator = image caption = First edition cover author = D. J. MacHale cover artist = Victor Lee country = United States language = English series = Pendragon genre = Fantasy novel publisher … Wikipedia
Spell — Spell, v. t. [imp. & p. p. or ; p. pr. & vb. n. .] [OE. spellen, spellien, tell, relate, AS. spellian, fr. spell a saying, tale; akin to MHG. spellen to relate, Goth. spill?n.e a tale. In sense 4 and those… … The Collaborative International Dictionary of English
The Adventures of Letterman — was an animated skit that was a regular feature on the 1971–1977 PBS television series The Electric Company .Created by Mike Thaler, this super hero spoof debuted during The Electric Company s second season, and quickly became one of the show s… … Wikipedia
spell — spell1 [spel] n. [ME < OE, a saying, tale, charm, akin to Goth spill, tale < ? IE base * (s)pel , to speak loudly] 1. a word, formula, or form of words thought to have some magic power; incantation 2. seemingly magical power or irresistible … English World dictionary
The Electric Company (1971 TV series) — The Electric Company redirects here. For the 2009 revival, see The Electric Company (2009 TV series). For other uses, see Electric company (disambiguation). The Electric Company 1971–1977 logo of The Electric Company. Format Child … Wikipedia
The Mint Extra — The Mint Extra, originally Extra Mint, was an early evening version of The Mint, which was developed and was shown on ITV s newly launched ITV Play channel. Extra Mint was presented by one presenter and gave away much smaller sums of money to… … Wikipedia
Spelling Puzzles for Kids — Hear the word, see the word, learn to spell the word.
Hear the word, see the word, learn to spell the word. Progressively learn the alphabet and spelling with this fun and interactive educational game. Give your little genius a head start with their abc's with over 200 picture puzzles in 14 categories and multiple ways to learn by identifying patterns. From beginner to advanced mode kids learn the difference between upper and lower case letters as well as build up their vocabulary and reading skills by solving a puzzle.
— Different ways to learn — Beginner, Intermediate & Advanced Mode —
Start with a few letters and the outline of the word in the beginner level. Intermediate level adds more letters to the puzzle and the kids must select the correct ones in the correct order. Advanced mode hides the word outline and kids must spell the word by hearing and visual context only.
— Progressive complexity — From three letter words to longer 9+ letter words —
Start with easier to spell three and four letter words and work your way up to longer more complex words. Combine this word complexity with Beginner, Intermediate and Advanced modes to really challenge your little genius by identifying patterns. Solving each word puzzle by pattern matching creates the foundation for reading, math and logic skills and is one of the best brain building exercises for those skills.
— Categories in Spelling Puzzles for Kids —:
Colors : black, blue, brown, green, orange, pink, purple, red, white, yellow
Numbers: zero, one, two, three, four, five, six, seven, eight, nine, ten, eleven, twelve, thirteen, fourteen, fifteen, sixteen, seventeen, eighteen, nineteen, twenty, thirty, forty, fifty, sixty, seventy, eighty, ninety, hundred
Nature: mountain, rainbow, river, rock, waterfall, bush, cloud, lake, sand, sun, tree
Sports: baseball, basketball, bowling, football, golf, hockey, soccer, tennis, volleyball
Transportation: airplane, bicycle, bus, car, helicopter, motorcycle, sailboat, scooter, streetcar, taxi, train, truck
Opposites: back, big, down, far, front, high, inside, large, little, low, near, outside, short, small, tall, up
Fruit: apple, banana, cherry, kiwi, mango, melon, orange, peach, pear, pineapple, plum, raspberry, strawberry, watermelon
Vegetables: broccoli, cabbage, carrot, corn, cucumber, eggplant, garlic, onion, peas, pepper, potato, tomato, zucchini
Shapes: circle, cone, cube, cylinder, diamond, heart, oval, pyramid, rectangle, square, star, triangle
Articles of clothing: dress, hat, jeans, pants, purse, shoes, shorts, sneakers, socks, sweater, tie, undershirt, underwear, watch,
Animals: bee, bull, butterfly, cat, chicken, cow, dog, duck, fish, frog, goat, horse, pig, rooster, sheep, turtle
Family Members: baby, boy, brother, dad, daughter, family, girl, granddaughter, grandma, grandpa, grandson, man, mom, sister, son, woman
Occupations: chef, contractor, doctor, fireman, judge, musician, painter, pilot, policeman, sailor, soldier
School Items: backpack, calendar, chalkboard, computer, eraser, glue, markers, notebook, paper, pen, pencil, ruler, scissors